Carola Barbero
Full Professor
SSD: M-FIL/05 - filosofia e teoria dei linguaggi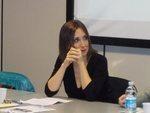 Contacts
011.6704456
Via S. Ottavio 20, 2° piano
10124 - Torino
At
Department of Philosophy and Education Sciences
Dipartimento di Filosofia e Scienze dell'Educazione
Corso di laurea in Filosofia
Corso di laurea magistrale in Filosofia
Corso di Laurea Magistrale in Scienze del corpo e della mente
Corso di laurea magistrale in
Comunicazione e Culture dei media
Philosophy International Curriculum M.A.
Curriculum vitae
Curriculum Vitae (0.2 MB)
Research topics
Metafisica e ontologia della finzione, filosofia della letteratura, il paradosso della finzione, oggetti inesistenti, teorie meinongiane.
Office hours
RICEVIMENTO
Per facilitare la partecipazione anche degli studenti e delle studentesse che possono avere difficoltà a recarsi presso le sedi universitarie, nell'a.a. 2021-2022 la docente riceve online nella propria stanza webex (https://unito.webex.com/meet/carola.barbero), previo appuntamento via mail (scrivere all'indirizzo carola.barbero@unito.it).