Elvira Di Bona
(RTDb) Senior lecturer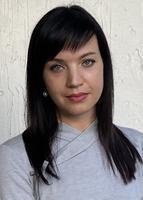 Contacts
At
Department of Philosophy and Education Sciences
Dipartimento di Filosofia e Scienze dell'Educazione
Corso di laurea in Filosofia
Corso di Laurea Magistrale in Scienze del corpo e della mente
Laurea Magistrale in Medicina e Chirurgia - sede di Torino
Research topics
My main research interests are in the philosophy of mind and aesthetics. I also work on a number of topics in the philosophy of laguage and philosophy of music. I am currently focusing on perception and its connection to memory. I published extensilvely on auditory perception, the metaphysics of sound, and the content of perceptual experience.

Before joining the Department of Philosophy and Education Sciences in Turin as an Assistant Professor of Philosophy of Mind, I spent more that four years as a postdoctoral fellow at the Polonsky Academy at The Van Leer Jerusalem Institute (Israel). Before that, I held postoctoral positions at the Italian Academy of Columbia University (NYC), Freie Universität Berlin (sponsored by DAAD), and University of Turin (sponsored by Franco and Marilisa Caligara Foundation).
I obtained my Ph.D. in Philosophy and Cognitive Sciences at Vita-Salute San Raffaele University (Milan) and the Institut Jean Nicod (École des Hautes Études en Sciences Sociales, Paris). During my Ph.D. course, I spent research periods at the New York University, as a Fulbright Scholar, and the University of Sydney, as an ARIA (Association for Research between Italy and Australasia) Grantee.

I completed the "High Specialization Course in Music Studies – Solo Violin Performance" at the National Academy of Santa Cecilia (Rome) in 2008. I performed in concerts of classical and jazz music—in solo performances, and chamber and symphonic orchestras—in the U.S., the U.K., Italy, Germany, France, Romania, Croatia, and Venezuela.

You can find my work on Google Scholar and Academia