Federica Mazzocchi
Associate Professor
SSD: L-ART/05 - discipline dello spettacolo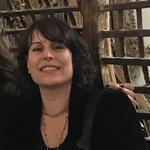 Contacts
Lo studio di Federica Mazzocchi si trova a Palazzo Nuovo, piano interrato (via Sant'Ottavio 20), presso gli Uffici del CRAD - Centro Ricerche Attori e Divismo.
At
Department of Philosophy and Education Sciences
Dipartimento di Filosofia e Scienze dell'Educazione
Corso di laurea in DAMS
Corso di laurea in Scienze dell'Educazione
Corso di laurea magistrale in CAM Cinema, Arti della scena, Musica e Media
Laurea Magistrale in Medicina e Chirurgia - sede di Torino
Curriculum vitae
Curriculum Vitae (0.2 MB)
Office hours
Si comunica che, per il corrente anno accademico, il ricevimento sarà svolto in modalità on line su appuntamento (contattare la docente tramite mail).
Per fare richiesta di tesi, occorre prima sostenere l'esame dell'insegnamento corrispondente.