Dott. Antonio Santangelo
(RTDb) Senior lecturer
SSD: M-FIL/05 - filosofia e teoria dei linguaggi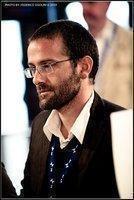 Contacts
Via Sant'Ottavio 20, Torino. Secondo piano, ufficio B 22.
At
Department of Philosophy and Education Sciences
Dipartimento di Filosofia e Scienze dell'Educazione
Corso di laurea in Scienze della Comunicazione
Corso di laurea magistrale in
Comunicazione e Culture dei media
Curriculum vitae
Curriculum Vitae (0.5 MB)
Research topics
Mi occupo di Semiotica, una disciplina che interpreto come una scienza sociale, volta a riconoscere e descrivere i modelli culturali che rendono significativi i testi, le pratiche umane che ci circondano e le nostre esperienze di vita, soprattutto quelle interpersonali.
Sono specializzato in studi sociosemiotici sulla televisione, il cinema e il web, ma mi sono occupato anche di videoarte, pubblicità e comunicazione politica.
Office hours
Mercoledì dalle 14.30 alle 16.30.
Finché non sarà possibile incontrarsi di persona, il mio acocunt skype è antosan75.