Erminia Ardissino
Associate Professor
SSD: L-FIL-LET/10 - letteratura italiana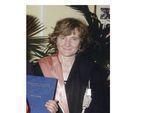 Contacts
At
Department of Philosophy and Education Sciences
Dipartimento di Filosofia e Scienze dell'Educazione
Corso di laurea magistrale a ciclo unico in
Scienze della Formazione Primaria
Dottorato in Lettere
Curriculum vitae
Curriculum Vitae (0.1 MB)
Research topics
Dante, Letteratura e cultura italiana del Rinascimento e dell'età barocca, Donne e Bibbia, Storia della pietà, Civiltà letteraria europea, Letteratura e storia delle idee, Didattica della letteratura.
Office hours
La prof.ssa Ardissino nel periodo di chiusura per il coronavirus ha continuato e continua a rispondere alle domande degli studenti via mail e a correggere capitoli delle tesi inviati.
L'appello di aprile si svolgerà in forma orale, con le modalità che saranno inviate direttamente agli iscritti in tempo utile.
Due to COVID restrictions, prof. Ardissino will answer students' questions by mail, or, if requested, with a webex meeting.