Gabriele Vissio
Research fellow
SSD: M-FIL/01 - filosofia teoretica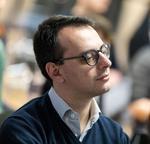 Contacts
n/d
n/d
Secondo Piano (Ufficio del prof. Lingua)
Palazzo Nuovo
Via Sant'Ottavio 20
10124 - Torino (TO)
At
Department of Philosophy and Education Sciences
Curriculum vitae
Curriculum Vitae (0.2 MB)
Selected publications
L'elenco delle pubblicazioni è disponibile sul Catalogo IRIS (clicca qui)
Research topics
Gabriele Vissio is Post-Doc researcher within the framework of the project SALINTER - La salute come immaginario sociale e religioso, funded by Fondazione CRT (fondazionecrt.it). His research deals with scientific and social representations of health, philosophy of medicine and social research.
Gabriele Vissio graduated in Philosophy (MA) at the University of Turin and he got his PhD Degree in Philosophy at Université Paris 1 – Panthéon-Sorbonne and at the FINO North-Western Italian Philosophy Consortium. He also got a Degree in Religious Sciences at the Theological University of Northern Italy. His fields of experience are normative philosophy, history and philosophy of science (with particular reference to the approach adopted by the tradition called "historical epistemology") and French contemporary philosophy. After his PhD he also worked as Post-Doc researcher in different European programmes, such as the INTERREG-ALCOTRA project"#Com.Viso" (bit.ly/2u4bI1X), Erasmus + KA2 project "Together" and the ERC Starting Grant Progect "NeMoSanctI" (nemosancti.eu).

Research interests: Philosophy of Medicine, Historical Epistemology, Contemporary Philosophy, Social research
Research projects
Activities in agenda
Academic bodies
Office hours
By appointment, via Cisco Webex platform.
Please send an e-mail to: gabriele.vissio@unito.it
Su appuntamento, via piattaforma Cisco Webex.
Si prega di inviare un'e-mail a: gabriele.vissio@unito.it.